Beginning September 12th, 2018
Wednesdays 6:45 pm - 8:15 pm
 Boys & Girls 3 years old - 6th grade
See schedule below for special events
AWANA is our mid-week children's program with the goal is to reach boys and girls with the Gospel of Christ and train them to serve him. Why the funny name? It's an acronym taken from 2 Timothy 2:15, "Do your best to present yourself to God as one approved, a worker who has no need to be ashamed, rightly handling the word of truth." We gather together as approved workmen who are not ashamed of the Gospel! The entire night is supervised by background checked volunteers that stand faithfully by Avondale Bible Church's doctrine. The program goes all through the school year - it is never too late to sign up and join in on the fun activities, Scripture memorization, and lessons. Friends are not only welcome to attend AWANA, they are encouraged! These special events are perfect opportunities to invite friends who may not know Jesus
Any questions or needs, contact AWANA@avondalebiblechurch.org or our AWANA Commander, Preston VanderWeyst (prestonvw@live.com).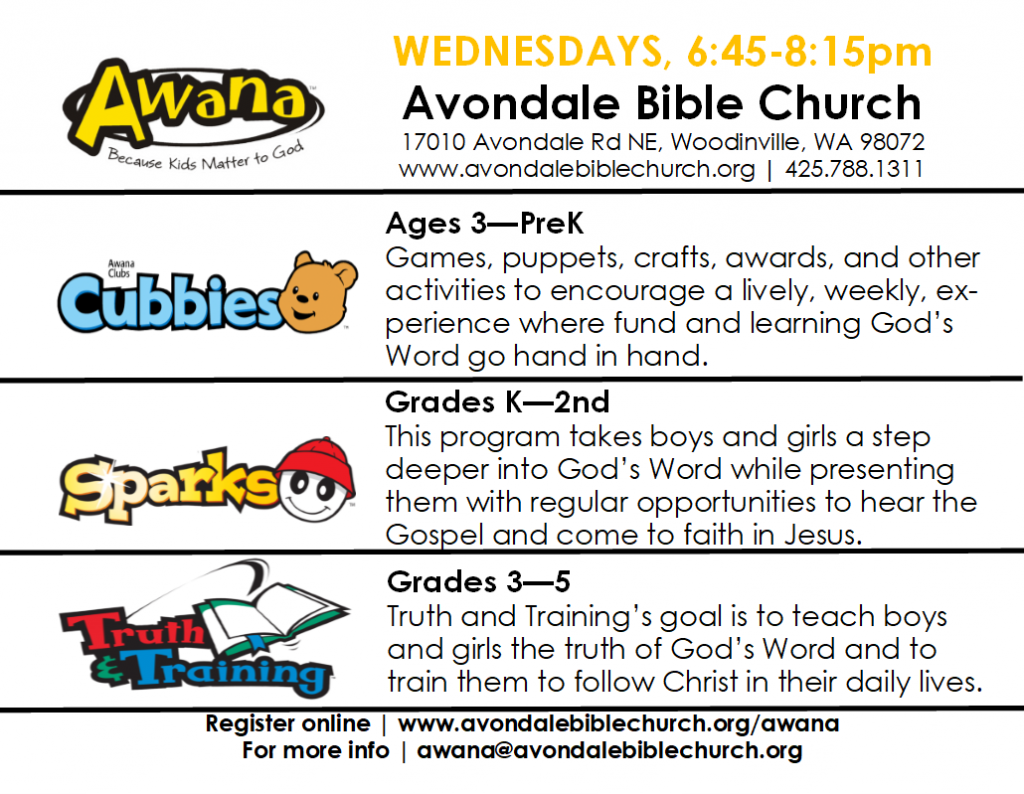 Registration
You have multiple options for joining ABC's AWANA:
-Click here to register
-Show up on an AWANA night and meet with our Secretary at the desk at any time during the year
Registration is $35.00 per child* for the 2018-19 year. The fee covers:
- shirt/vest
- book
- book bag
- store expenses
- and snack for the entire year
*There is a fee for replacement items.

Generally, we follow the Northshore School District Calendar. When school is scheduled to be out for them, AWANA does NOT meet.
2018-2019 Calendar:
September 12th:  Kick-Off Registration Party
October 31st:  Carnival
November 14th:   AWANA Store
November 21st:   No AWANA - Thanksgiving
December 12th:   AWANA Store
December 19th & 26th:  No AWANA – Christmas Break
January 2nd:  No AWANA – New Year's Break
February 6th: AWANA Store
February 20th: No AWANA – Mid-winter break
March 6th: Drive-in Movie Night
March 20th:   AWANA Store
April 3rd: Crazy Hair and Sock Night
April 10th: No AWANA – Spring Break
May 1st: Spring Carnival
May 8th: Final Book Night & Last AWANA Store
May 15th: Awards Ceremony